Ok so I've been pretty bad about updating my blog over the last few months! Â Life has been busy, but mostly good things, and now I have lots of new work to catch everyone up on…
A few magazine issues have come and gone featuring some really great restaurants, but thanks to the new website for Seattle Met, it's easier than ever to see all my work at once, including things I've missed blogging about! Â There are a few repeats to sort through, but it's exciting to be able to see the body of work I've done for the magazine over the last year. Â One of the highlights from the last few months was the restaurant Skelly and the Bean. Â It's a really unique and wonderful restaurant that was truly built by the community and is just an awesome place to eat and soak up the vibe. Â You should really read the article on this one – I had a blast shooting there, and can't wait to go back.
Chef/Owner Zephyr Paquette – click to see article
Another delicious find was Cha:n, a Korean restaurant in Pike Place that gave me a new appreciation for kimchi, and a new favorite place to eat downtown. Â I've been slow to warm to Korean food (despite being half-Korean, I know, I'm a shame!), but this place has really changed my mind. Â Because they don't overload on the heat I was able to try things I've always avoided in the past thinking that they would burn the heck out of my mouth (ok I'm also a kind of a wimp when it comes to spicy food). Â Their kimchi is fresh, balanced, and delicate…and really refreshing, I could eat it all day – and the sliders, both pork and bulgogi are soooo good. Â I've already been back, and there will be many more visits to come.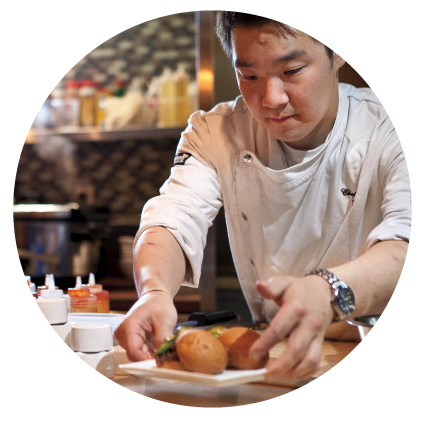 Another fun shoot for the magazine was all about ice cream – yay! Â Even though it was a huge challenge getting all the ice creams back to my place to shoot without melting…and then trying to shoot them quickly without making too big of a mess, I think the photo turned out pretty well. Â Shooting something new and different is always scary but fun, and now I have a few tricks up my sleeve if I ever need to shoot ice cream again! Â Some of my favorite flavors to taste (I couldn't resist!), were the Snickerdoodle from Bluebird, Vietnamese Cinnamon from Full Tilt, and Red Velvet from Cupcake Royale (which didn't make it into the final photo).
There's even more new work on the way, some I can share (see the next blog post), some which will have to wait until the photos get released

 All in all it's been a great summer so far, and I hope I have even more to share soon!
Enjoy!